A Song for Julia
by
Charles Sheehan-Miles
My rating
: 4 of 5 genies
Published:
December 2, 2012
Series:
Thompson Sisters #1
Genre:
New Adult, Contemporary, Romance
Publisher:
Cincinnatus Press
Source:
Purchased
Pages:
376
Format:
eBook
Purchase At:
Amazon.com
Goodreads Summary


Everyone should have something to rebel against.

Crank Wilson left his South Boston home at sixteen to start a punk band and burn out his rage at the world. Six years later, he's still at odds with his father, a Boston cop, and doesn't ever speak to his mother. The only relationship that really matters is with his younger brother, but watching out for Sean can be a full-time job. The one thing Crank wants in life is to be left the hell alone to write his music and drive his band to success.

Julia Thompson left a secret behind in Beijing that exploded into scandal in Washington, DC, threatening her father's career and dominating her family's life. Now, in her senior year at Harvard, she's haunted by a voice from her past and refuses to ever lose control of her emotions again, especially when it comes to a guy.

When Julia and Crank meet at an anti-war protest in Washington in the fall of 2002, the connection between them is so powerful it threatens to tear everything apart.
My Review
This book is all about music and how it transforms lives. The romance at the core of A Song for Julia is realistic and one I found myself relating to, loving, and cheering.
I went in with an idea of what I thought the book would be like: guy meets introverted girl, guy proceeds to woo girl out of her oyster shell...you know the drill. I'm not saying that Sheehan-Miles's novel is revolutionary, it accomplishes much the same of what the traditional (well-written) New Adult contemporary romance novel at least sets out to do. I wasn't blown away by the plot per se, that I could see coming, but the story is worthy of mention. It had substance, and Sheehan-Miles's multifaceted characters were interesting to read about because they got my heart involved. Julia's story made me bawl, Crank made me swoon and Sheehan-Miles officially rid me of my bias against male authors writing romance fiction.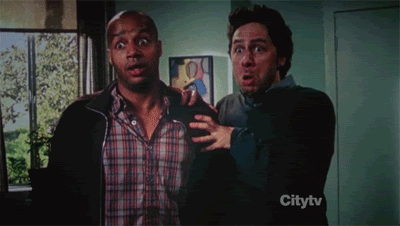 Way to go, man!
Read this book for its dimensions, for the struggle and ultimately, Julia and Crank's triumph. This is New Adult done right, tender and heartfelt written literature that has made me such a fan of the author. I cannot wait to read more of what Sheehan-Miles has in store! I was probably halfway through A Song for Julia when I bought the second book in this series. The idea of writing about the Thompson sisters seems pretty brilliant to me, especially since Alex's journey is next on my to be read list.
You should read this book, if you like a well-written story with funny, conflicted characters in hard situations and romance that leaves you smiling, read this book. It's New Adult so 18 years and older please, the subject matter is mature so keep that in mind. This is a solid 4/5 from my end!
I can't think of a reason not to enjoy this book, it absolutely worked for me, 4/5 genies!