*Drum roll please*
Thank-you, Ned.
I can hardly contain myself, but I might as well let it out, there is finally a cover for the upcoming final book in Veronica Rossi's Under the Never Sky series, of which I am a very big fan. I was kind of scrolling through the newly released books of the month when I chanced upon this little beauty; it took my breath away.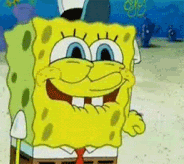 So no Spongebob, didn't do it, take my breath away that is. I like him, but no. Look below him. Keep scrolling...
And...VOILA!
Into the Still Blue (Under the Never Sky #3)
by
Veronica Rossi
Release Date:
January 28, 2014
My Thoughts
I have but one question and that is, can this book release already?! I really do want to devour it NOW. It's so stunning and pretty :) Mostly I like that Aria and Perry are together in this one, they look pretty serious and shiz on the cover. As they walk towards us, it makes me speculate all the wonderful things Rossi has in store for the final instalment in the
Under the Never Sky
series! The colour tones of the new cover are balanced and fit perfectly with the series, I think, I'm loving it. While I happened upon this one by chance, I need it like yesterday. The cover is gorgeous and I'm excited to share it with all of you!
What are your thoughts on this? Share in the comments below, what do you think of this stunning cover, and are you as excited as I am? Let me know!
Take care, love you lots!
XX