Some Girls Bite
by
Chloe Neill
My rating:
4 of 5 genies
Genre:
Paranormal, Drama, Romance, Fiction
Published:
April 7, 2009
Publisher:
NAL Trade
Pages:
341
Source:
Library Loan
Format:
Paperback
Purchase At:
TheBookDepository.com
or
Amazon.com


First in a brand new series about a Chicago graduate student's introduction into a society of vampires.

Sure, the life of a graduate student wasn't exactly glamorous, but it was Merit's. She was doing fine until a rogue vampire attacked her. But he only got a sip before he was scared away by another bloodsucker-and this one decided the best way to save her life was to make her the walking undead.

Turns out her savior was the master vampire of Cadogan House. Now she's traded sweating over her thesis for learning to fit in at a Hyde Park mansion full of vamps loyal to Ethan "Lord o' the Manor" Sullivan. Of course, as a tall, green-eyed, four-hundred- year-old vampire, he has centuries' worth of charm, but unfortunately he expects her gratitude- and servitude. But an inconvenient sunlight allergy and Ethan's attitude are the least of her concerns. Someone's still out to get her. Her initiation into Chicago's nightlife may be the first skirmish in a war-and there will be blood.
My Thoughts
Abrupt, like that lovely picture of Homer, would be the only way to describe my experience with
Some Girls Bite
. I felt suddenly thrust into Chicago and the World of Merit/Cadogen House; and having never visited said destination, I experienced certain trials relating.
For those of you who don't know, Canada is cold.
Really
cold. It also kind of sucks to live here, (sometimes), and seeing the world through Merit's eyes was not always easy because Chicagoans have it easier than we do. Also because the characters all seemed established - the relationships, Merit's life and profession - even her waking up in a limo,
aware
of vampire existence and suddenly one herself seemed like events taken place in a previous book. I took to Mallory - an excellent character and best friend - but adjusting to this time where vamps have outed themselves to the public, took almost half the book for me.
Ultimately though, I'm glad I stuck with it. Neill paints an excellent location for this story, and while I was expecting some kind of vamp sorority life out of Cadogen House, complete with its very own hazing and bullies - don't blame me I dealt with crazy Monica from
Morganville
before picking this - I got business and professionalism instead. The Cadogen vampires have a system and only 100+ vampires actually live in the mansion with head honcho, (and total hottie), Ethan Sullivan. The other 200 something work in the city and provide the house dollar, while those who guard the building get money from the House. For that I have to say not bad, Neill! The idea for that was brilliant and totally ingenue and I give her props for that. I eventually adjusted, settled into the feel of this author, and enjoyed her humor and easy prose once I found myself.
The plot was easy enough to follow along with; I particularly disliked the Sorcerer undertone to the story, and how
abruptly
that seemed to wedge itself into Merit's tale. Catcher seemed a little too "gruff" for me and at times bordered on rudeness with his snark, not to mention he and Mallory's original meeting still has not been expanded on, unless I am actually supposed to reconcile myself with the fact that the force of the universe gravitated them to one another. If so, am I to blame the Forces for their, (hate to say it), almost easy-sex pace, the hook-up that I am now meant to take is true love? Doubtful.
However I am quick to forgive. Because the chemistry between Ethan and Merit was
smoking
enough to pull my attention from Catcher and Mal's sex drama. Ethan was the main man, he was boss! Seriously, and he isn't even perfect! The guy has to be the most
pretentious
male lead I have ever met, and I don't even care. By the way, anyone else notice how that never happens, flaws I mean? The guy-toy always has to be impossibly correct in all three categories.
As are the following:
-Freaking perfect Edward Cullen hair (check)
-Perfect body (Ethan has that too)
-And excellent behavioral tendencies, humbleness, etc.
(Huh, nope.)
BTW Patch does not count in this list, dude wanted Nora dead for like 3/4 of
hush,hush
; I do not support abuse! Or Fallen angels who like to touch but not feel (the ideal pedophile).
I loved that she mentioned it,
fudge!
that she even had the respect for her reader's intellects and their ability to pick up on it that she refused to ignore the trait, or make Merit Bella-oblivious to his shortcomings. She does not try passing off his ego as manliness and certainly doesn't make the mistake of sweeping under the rug his issues with trust or committing to relationships.
She brings those faults to light.
And I'm a fan because of it. Everything regarding my confusion over how sorcery in this book works aside, I respect her and will read this series to the end. Because of Ethan, and because Ms. Neill thinks I'm smart. The events that took place left me a bit skeptical to how good of a heroine Merit would be, but the other books make up for it and she becomes more sure of herself. Thankfully!
Now I leave with a closing note from our resident Einstein: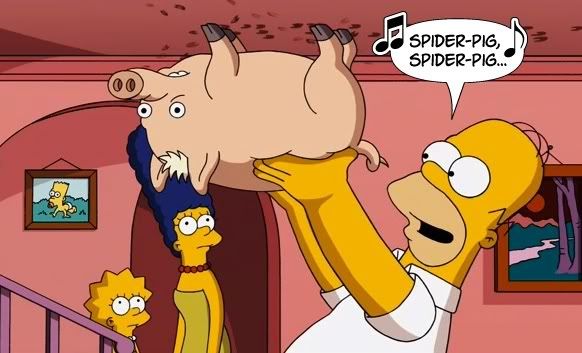 Excellent, Homer!
4/5 genies: A great read full of entertaining characters and charm. Recommended!