The Iron King
by
Julie Kagawa
My rating:
3 of 5 genies
Genre:
YA, Fantasy, Magic, Fairies, Paranormal, Adventure, Romance
Published:
February 1, 2010
Pages:
363
Publisher:
Harlequin Teen
Source:
Library Loan
Format:
Paperback
Purchase At:
TheBookDepository.com
or
Amazon.com


Meghan Chase has a secret destiny; one she could never have imagined.

Something has always felt slightly off in Meghan's life, ever since her father disappeared before her eyes when she was six. She has never quite fit in at school or at home.

When a dark stranger begins watching her from afar, and her prankster best friend becomes strangely protective of her, Meghan senses that everything she's known is about to change.

But she could never have guessed the truth - that she is the daughter of a mythical faery king and is a pawn in a deadly war. Now Meghan will learn just how far she'll go to save someone she cares about, to stop a mysterious evil no faery creature dare face; and to find love with a young prince who might rather see her dead than let her touch his icy heart.
My Thoughts
*Ahem* As I am queen procrastinator I would like to now announce this review.

2 weeks late.

*Crowd boos*

Yeah, I know, On with it:
Ok so, confession time! I liked this more the second time around (can I call it that since I technically didn't finish it the first read through? BAH!)
Rating:
3 genies
Characters:
4 genies
Plot:
3.5 genies
Setting:
5 genies
H.M.:
honourable mention must go to Puck! Count me as your newest fan, Goodfellow.
P.A.:
Problem Areas? I only had some with the Queen
I have a rod up my bum
Titania and Meghan which is funny because Queen mab is a total broad as well. She just isn't as bad a word as Titania; I'll get to talking about Meghan later...
I'm kind of still in shock that I got through this, I mean who would have imagined I'd be here, writing a
second
review that doesn't contain multiple four letter words at every given instance???
NOT ME.
Because quite frankly, I couldn't stand reading this the first time around. It was probably one of those cases of building myself up and having it fall
flat
. Everyone was talking about the
Iron Fey
series as if it was the shiz - Team Puck this, Team Ash that - I mean really?!
That monkey business ain't even intelligent. It's decent, in my opinion, a good read flourishing with beautiful writing and entertaining characters often over-shadowed by an at times juvenile protagonist. The story gets you where you want to go and back, it does the job. And honestly this girl is not the worst ever, I've hated some leading ladies worse than Meghan, oh be sure of that! I hear that she's more bearable as the series progresses so we'll see how our relationship goes from there, but I'm taking it all with a grain of salt.
Having hopes set high and then watching as the are dashed is a hard thing to experience; I get what you might be thinking, "Suck it up princess, shiz happens," but until you've felt what it's like to go into something expecting one thing and coming out with another...Well you just don't get it.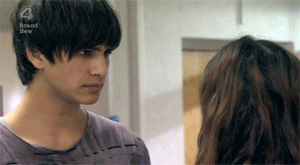 I have minimal to no qualms with the writing, the plot is developed very nicely as is the action; although the way Meghan continuously lands herself
and others
into trouble is tremendously annoying.
I couldn't help rolling my eyes and kind of yelling into the book, "STOP MAKING PROMISES, YOU DUMMY!! THEY ARE NOT NICE PEOPLE. THEY ARE THE FEY WITH THE VERY SHARP TEETH!"
Gosh, you think a person would learn.
However, she is just sixteen, and maybe at that age you don't exactly have all your magical castles and rainbow stockings quite together yet, so I will make an allowance.
Even though I really am just one year older myself
.Just. This. Once. Because it is almost Christmas and I like being on the good list. Hear
that
, Santa, give me what I want!
*Note: I will probably not get what I wished for as Santa hates me. He doesn't come to my house anymore and my father eats all the cookies, yes it has nothing to do with this review, but I might be ADD and thought to mention. If you are experiencing such discrimination, let me know. I would love to
hate on
talk about Santa with you.*
------------------------
So basically
----------------------------
I'd say this was an average experience for me, I got in and out pretty much the same; it killed time and by the end I kinda was glad I got through it. When I dropped this the first time I couldn't shake the feeling that maybe I'd given up to easily (I
did
stop on page 91!) So I sat down and after reassessing it, asked the library to loan me the book one more time.
That was a pretty great move, because now I like Grimalkin more than I did before and secretly harbour a dream to capture him in plush. Yes,
plush
! I would adore a furry one by my bedside, what with the sharp teeth and crazy smile and eyes that never stop staring....You get the idea. Read this book from your library if possible, I'm glad I did.