Anya's Ghost
by
Vera Brosgol
My rating:
4 of 5 genies
Published:
June 7, 2011
Publisher:
First Second
Pages:
224
Source:
I won this! Received through Goodreads FirstReads
Format:
Paperback
Purchase At:
The BookDepository.com
or
Amazon.com
Goodreads Summary
Anya could really use a friend. But her new BFF isn't kidding about the "Forever" part... Of all the things Anya expected to find at the bottom of an old well, a new friend was not one of them. Especially not a new friend who's been dead for a century. Falling down a well is bad enough, but Anya's normal life might actually be worse. She's embarrassed by her family, self-conscious about her body, and she's pretty much given up on fitting in at school. A new friend—even a ghost—is just what she needs. Or so she thinks. Spooky, sardonic, and secretly sincere, Anya's Ghostis a wonderfully entertaining debut from author/artist Vera Brosgol.
Note:
This title was received through Goodreads's First Reads system and I am incredibly grateful!! I am not being paid for the review and did not purchase this book.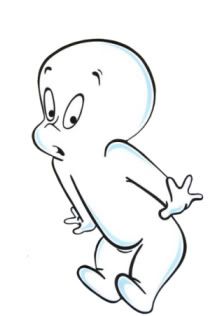 BOOOO!!!
Haha, did I scare you? Nope? Well, I didn't think so.
Anya's Ghost
is a great read that really exemplifies character change and significant growth. It is also, as you might have guessed, a story about a ghost. Not the friendly kind either, more like the crazy in the head variety that make Kitty go "Meeeooow!" and not in a good way.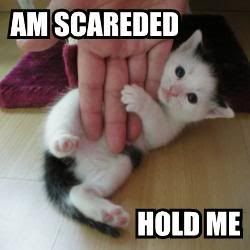 She did crazy things.
And was crazy in general.
She also tried making Anya do whatever she wanted.
Shoot, that ghost freaked me out closer to the end! Not
Anna Dressed in Blood
freaky but enough so that I turned my head to the side and was like..."What the fuuuu?!" Emily, as she is called, is not what you'd initially think; or maybe she is, and I'm just not very good at guessing. I had my doubts about her and knew her story had to be a little off when she started being forceful, but still she's a creepy one, that Emily.
Anya is a different story. At the beginning I didn't really like her because she isn't proud of her heritage. Earlier in the book I kept wishing that she would appreciate her family more! Her mother is so kind - a single parent - and very attentive/loving of both children, and her brother Sasha is drawn with the cutest eyes ever!!
The art is
extremely
gorgeous, by the way, my sister couldn't help grabbing it and flipping through. She's an artist too, and also very hard to impress usually.
Every panel is drawn very well and it makes sense to me why Neil Gaiman would call the whole thing "A masterpiece!" I'm impressed, but the fantastic illustration was only a
part
of why I couldn't put
Anya's Ghost
down; the story also flows really well. The way it is written feels so authentic to the genre and Brosgol doesn't go easy on anything; she makes Anya relate-able but also selfish in that she's very insecure of herself and isn't very accepting of her heritage.
[The girl even changes her last name to 'Brown' so people don't stumble over the real doosy, 'Borzakovskaya' which is really her last name! (hide spoiler)]
Anya wants that which most high school students aspire, that is to be popular. She wants to be noticed by the right crowd and even date Sean, the hot guy to be. Her interactions with Dima - the other Russian immigrate - broke my heart because he was so
cute!!!
Like most everyone Anya isn't very nice to Dima and that really didn't help me in the whole liking her department; I'm glad she straightened up by the end, though.
She just wants to be normal and I got that, Emily makes it seem as though she can offer her that but it doesn't go so well and by the end Anya really has to re-evaluate priorities and attitude; it was great fun and very realistic.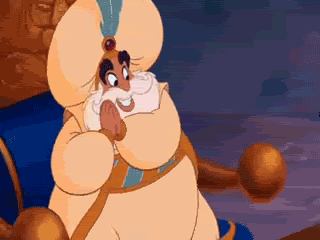 Ultimately having Emily around proves a real life lesson for Anya and by the end she's undergone a full 180 character-wise. This book was fun, beautiful and entertaining! Anya's sense of humour was contagious and even though she could be a little angsty at times the girl really made me laugh! The dynamics in relationships are proportionate and by my standards, Brosgol has done an excellent job.
Bare in mind that this review does come a little late as I received my copy of
Anya's Ghost
near the end of last year and really only had time to review now. This does not mean the book lacked in any manner, but my life really isn't very free right now and hence, I couldn't type something up until now.
I'M SO EXCITED THAT I WON SOMETHING!!!!!!
*Ahem* What are you waiting for? Didn't I convince you? You should read this! A solid 4/5 genies.